THECHALLENGE
A national e-commerce fulfillment company was designated an essential employer for the duration of the COVID-19 pandemic. They needed to quickly recruit, onboard, and safely manage tens of thousands of additional team members to meet customer demand during unprecedented times, while facing state-mandated social distancing and safety protocols.
Their challenges included:

Recruitment—Establish a recruiting process that would allow the client to meet aggressive headcount goals, while adhering to CDC social distancing guidelines and office occupancy restrictions.
Onboarding and Pre-Employment Compliance—Ensure that all new team members were properly onboarded, including pre-employment testing and a full orientation at the client location.
Associate Safety—Associates placed on assignment must be monitored for adherence to new safety protocols to help minimize a workplace outbreak, while meeting quality and production goals.
Communications and Reporting—To provide transparency, create a robust communications plan that provided real-time updates to clients, candidates, and internal team members.
OURSTRATEGY
As their long-time staffing provider, we were tasked with helping them meet aggressive hiring goals and overseeing onsite associate management so they could focus on production and getting essential goods into the hands of quarantined families across the country.
Here's how we did it:
1. RECRUITMENT 

To meet increased hiring demands, while adhering to strict CDC guidelines around social distancing and office occupancy rules, we took the following steps.
FIRST, WE PREPPED EACH RECRUITING LOCATION FOR SAFE OPERATIONS.
Clean up: The offices were cleaned and sanitized throughout, including all furniture, soft surfaces and high touch items such as door handles.
Take out: Items that were not easily cleanable (such as fabric) were removed. Staff were required to remove personal items so they would not need to be cleaned daily.
Facilitate personal safety: Hand sanitizer and disinfectant wipes were placed in various areas in the offices. Chairs were arranged to maintain 6 feet distance between seating.
Direct traffic: Arrows were placed on the floor in larger areas to keep one-direction flow of people walking through the offices.
Erect barriers: Sneeze guards were put in place to provide protection at high-potential contact areas, including the reception desk, interview areas and drug testing locations. These guards were fully sanitized between each candidate.
NEXT, WE CREATED A PLAN TO HELP MANAGE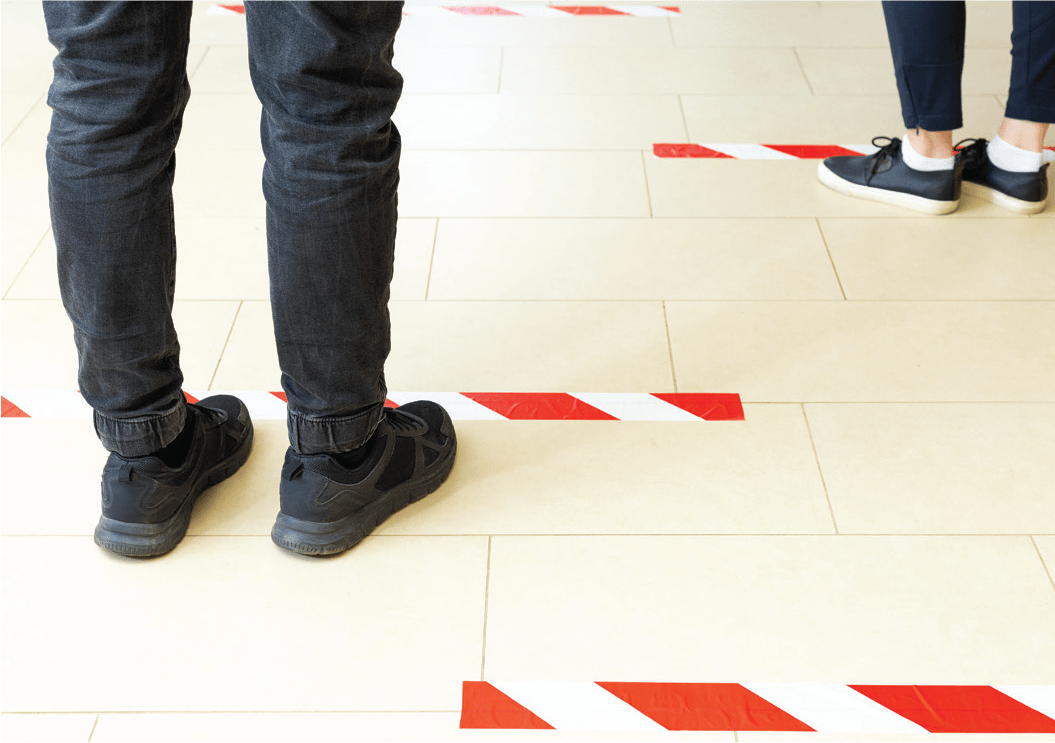 OFFICE FLOW.
Cap density: Office occupancy was limited to 10 people, requiring everyone to stand/sit 6 feet apart.
Direct overflow: Visitors exceeding that limit were told to remain in their cars until we texted them that it was OK to enter the office.
THEN, WE CREATED A LOW-TOUCH APPLICATION PROCESS TO ENSURE CANDIDATE AND STAFF SAFETY.
Virtual experience: Candidates were directed to our online application portal, which reduced the number of in-office steps. Our virtual recruitment technology limited face-to-face interactions, while still providing a great candidate experience.
By appointment only: We replaced our standard "walk-in to apply" hiring model with appointments to control the number of people in the office at one time.
Entry requirements: Temperature checks, face coverings, and hand sanitizer usage were required prior to entering the office.
Touchy subjects: We had candidates place their IDs directly on the sanitized desk or hold them up for our recruiters to input the ID information into the system.
Hands-off document handling: We encouraged candidates to bring pre-printed copies of documents along with the originals to limit back-and-forth handling. When documents had to be transferred between staff and associates, hands were washed for at least 20 seconds and hand sanitizer used before and after handling the documents. Pens were single use and given to candidates after their visit.
Final wash: Staff members were required to wash their hands or use hand sanitizer after every candidate interaction.
TO HELP ENSURE COMPLIANCE, WE:
Give them a sign: Signage posted throughout each office featured mask and social distancing requirements, hygiene protocols, temperature/symptom checklist, and CDC Guidelines for proper handwashing.
Keep eyes on: A safety coach was placed at each office to oversee protocols compliance. In addition, a staff member watched traffic flow and kept people moving.
Bring the clean: An office cleaner was hired to sanitize all items (chairs, desks, tables, monitors, keyboards, phones, mouse, door handles, sneeze guards, computers, etc.) before and after each candidate.
Space them out: We turned every other computer around so they could not be utilized, thus ensuring social distancing.
2. ONBOARDING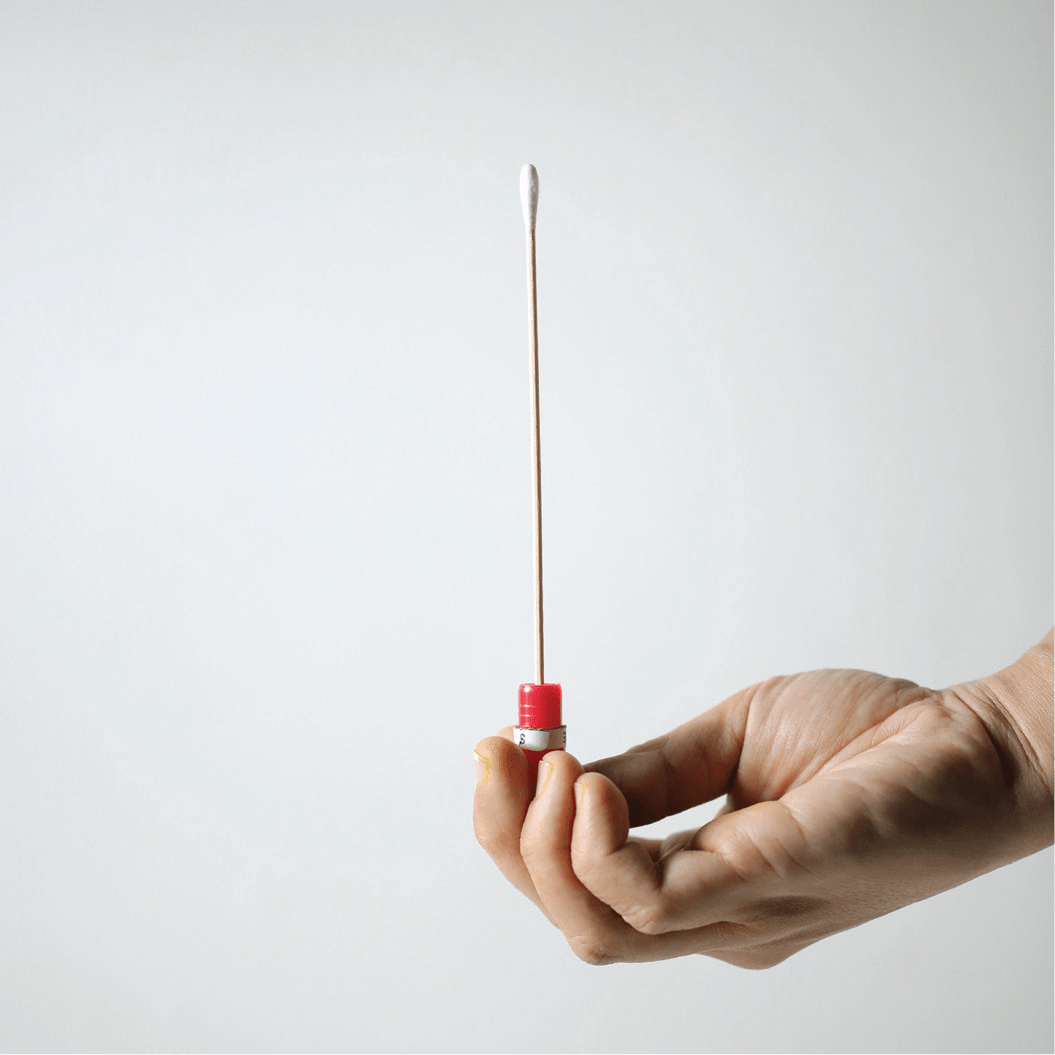 As job offers were made, we needed a process to safely and efficiently move new hires through the pre-employment and orientation process.
CLIENT-MANDATED DRUG TESTING WAS THE FIRST STEP THAT NEEDED TO BE REVAMPED.
Zoned in: We established a sanitized zone where both gloves and face masks were worn.
Self determination: New hires performed the drug test themselves and a no-touch process for transferring completed test was established.
TO PROVIDE A GREAT ONBOARDING EXPERIENCE, WE OFFERED TWO TYPES OF ORIENTATION.
In-person: Our standard orientations were held in rooms with chairs 6 feet apart, and the group size limited to 10 individuals.
Virtual: for those who preferred a remote experience, we offered a virtual orientation option.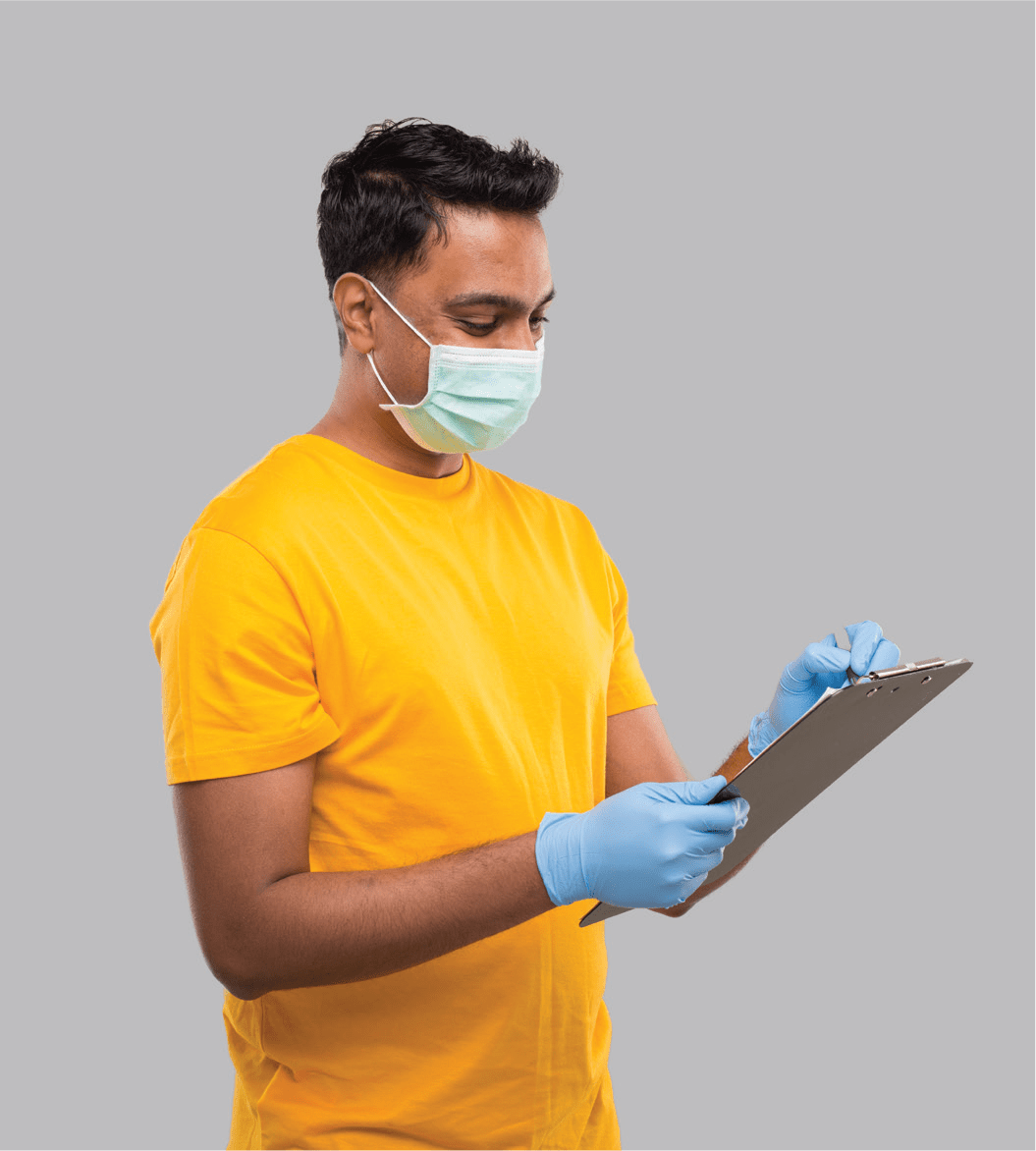 3. ASSOCIATE SAFETY ONSITE   

Once associates were onsite at the client location, keeping them safe reigned supreme. Here are a few of the protocols we implemented to ensure a safe, productive workplace.
OUR OSHA-CERTIFIED SAFETY SPECIALISTS PARTNERED WITH CLIENTS TO EVALUATE WORKPLACE READINESS.
Walkthroughs: We identified opportunities to establish new protocols and procedures that would keep employees and team members safe.
Checklists: These were developed and used by our onsite support team members to ensure adherence and compliance.
PERSONAL PROTECTIVE EQUIPMENT (PPE) IS REQUIRED FOR TEMPORARY STAFF MEMBERS AS WELL AS OUR CLIENT'S FULL-TIME EMPLOYEES.
Masks: We provided them for all staff and associates (when the client could not do so), keeping a surplus of masks on hand to dispense as needed.
Sneeze guards: Clear plastic panels and other barriers were placed in areas where social distancing was not possible.
Gloves: We provided them in locations where they were requested.
Disinfectant: We supplied hand sanitizer, spray disinfectant and/or disinfecting wipes, with a surplus established for replenishment.
SOCIAL DISTANCING PROTOCOLS WERE DEVELOPED AND DISSEMINATED.
Weekly reminders: We sent weekly communications via email, text and voicemail explaining the social distancing requirements and importance of staying 6 feet apart.
Signs of the times: Reminder signage was posted with the social distancing protocols every few feet within the workspace.
Walk this way: Waiting rooms and pathways had markings to indicate safe social distancing areas.
Coaching success: Social distancing coaches were put in place to make sure guidelines were followed.
MONITORING THE HEALTH OF ASSOCIATES WAS EQUALLY IMPORTANT.
Temperature checks: We partnered with our client to provide temperature check equipment at many sites, including remote temperature check scanners for quick, easy processing at shift check-ins. Where scanners were not implemented, we provided the team members they needed to perform this critical task.
Telemedicine accesss: We secured telemedicine as a free service for all associates and their families. Associates experiencing symptoms were asked to use the service, or to see their primary care physician through their Integrity-provided medical benefits.
Reporting hotline: A COVID email address was created for people to report symptoms, illnesses and potential social distancing/safety issues. All incoming emails were handled by the Integrity team to so that our client could stay focused on operations.
OUR COMPREHENSIVE BENEFITS PLAN ALLOWED ASSOCIATES AND THEIR FAMILIES TO ACCESS THE MEDICAL HELP AND RESOURCES THEY NEEDED TO STAY HEALTHY AND PRODUCTIVE:
COVID pay: Associates and Integrity onsite team members were given two-week's pay for any time out to due COVID, quarantine or contact tracing.
Attendance pass: We waived all attendance issues for over a month so that associates could take time off until they felt comfortable coming to work, and they could resume their position without penalty.
Mental health support: We also provided an EAP to all associates and their family members, so they could speak with trained professionals about their concerns, fears, and obtain access to needed resources.
Help at home: Our Project Home Initiative assisted associates who were not able to meet their housing financial obligations, providing rent and housing assistance when needed.
4. COMMUNICATIONS & REPORTING   

With fears high running high, we put together a full communications and reporting strategy to keep our clients, team members and associates armed with critical, real-time data and information.
COMMUNICATIONS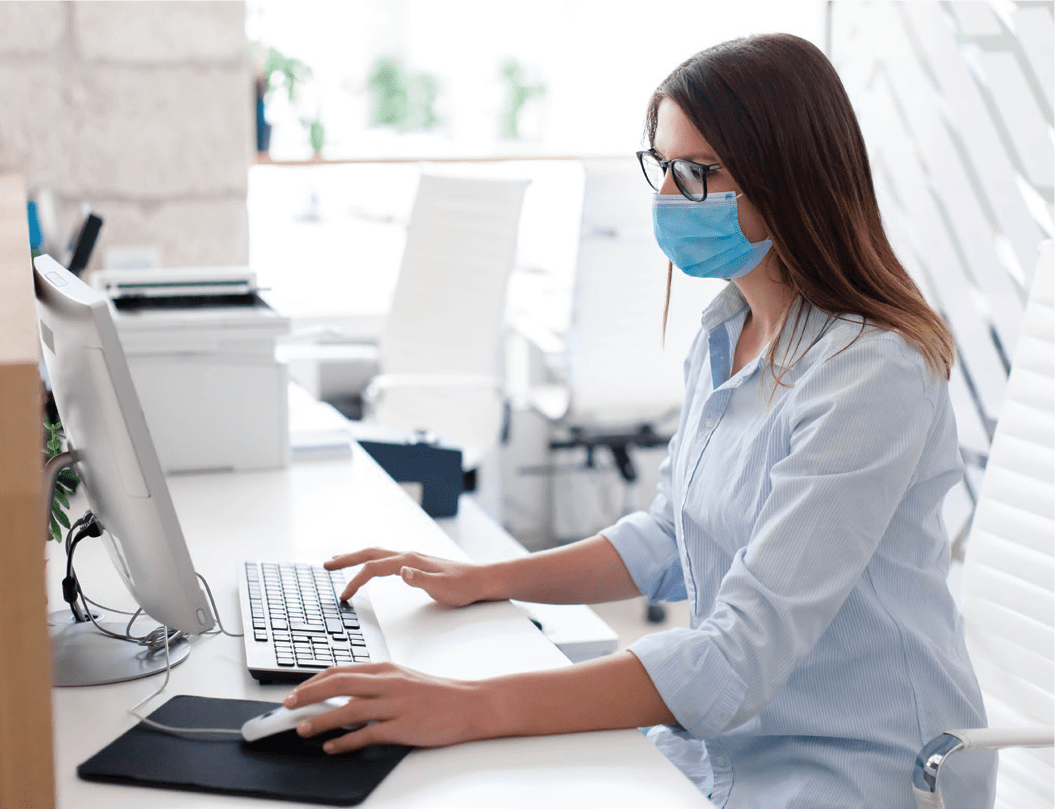 Corporate playbook: We established guidance for our corporate staff in directing our teams on how to handle specific scenarios.
Centralized team: A COVID team was assembled to verify that confidential information remained secure, centralized and handled consistently.
Weekly updates: Emails were sent to clients and associates on all new safety protocols, and important COVID updates.
Immediate notification: Email, phone, or text messages were sent to all employees working at a facility where an individual tested positive for COVID, Messages also informed them when the deep cleaning was completed.
Website FAQs page: A dedicated COVID info page outlined the steps being taken to keep everyone safe, along with point of contact information.
Webinars: Our HR teams held webinars for our clients to explain the policies and procedures we were putting in place to keep associates safe and to answer questions they had around the new protocols.
DATA & REPORTING
Monitored email box: This mailbox was dedicated to COVID-19 questions, with a full-time monitor.
Case tracking: We set up a Smartsheet to deliver daily reports on COVID-19 cases and quarantines.
Intake form: We created a form to send to clients whenever an associate was COVID-19 positive or presumptive positive.
Weekly reporting: Each site provided the number of new cases, associates on leave, and return to work dates so that our client could make important shift/building-level decisions.
Contact tracing: We informed the client of all positive cases and who may have been in close contact with an infected individual.
OSHA reporting: We partnered with our client to comply with OSHA's rules for electronic reporting related to COVID-19.
THERESULT
Our client's orders, filled: We interviewed, hired and onboarded enough associates in an 8-week period, resulting in a 94% fill rate.
Associate safety and wellness, managed: Integrity's central and onsite teams managed more than 3,000 cases of associates experiencing symptoms, who were quarantined, part of contact tracing, or had family members with symptoms – and only a very small percentage were positive. Our telemedicine feature was used by over 1,500 new associates in the first two months of implementation.
Compliance issues, solved: We helped clear background and drug test contingencies for more than 1,700 applicants, reducing time to hire and eliminating timely admin work for our client.
Business continuity, secured: The new protocols and procedures, coupled with our onsite support team, kept attendance high, performance steady and our client's customers happy. Attrition rates remained consistent with pre-COVID rates, despite initial worker fears.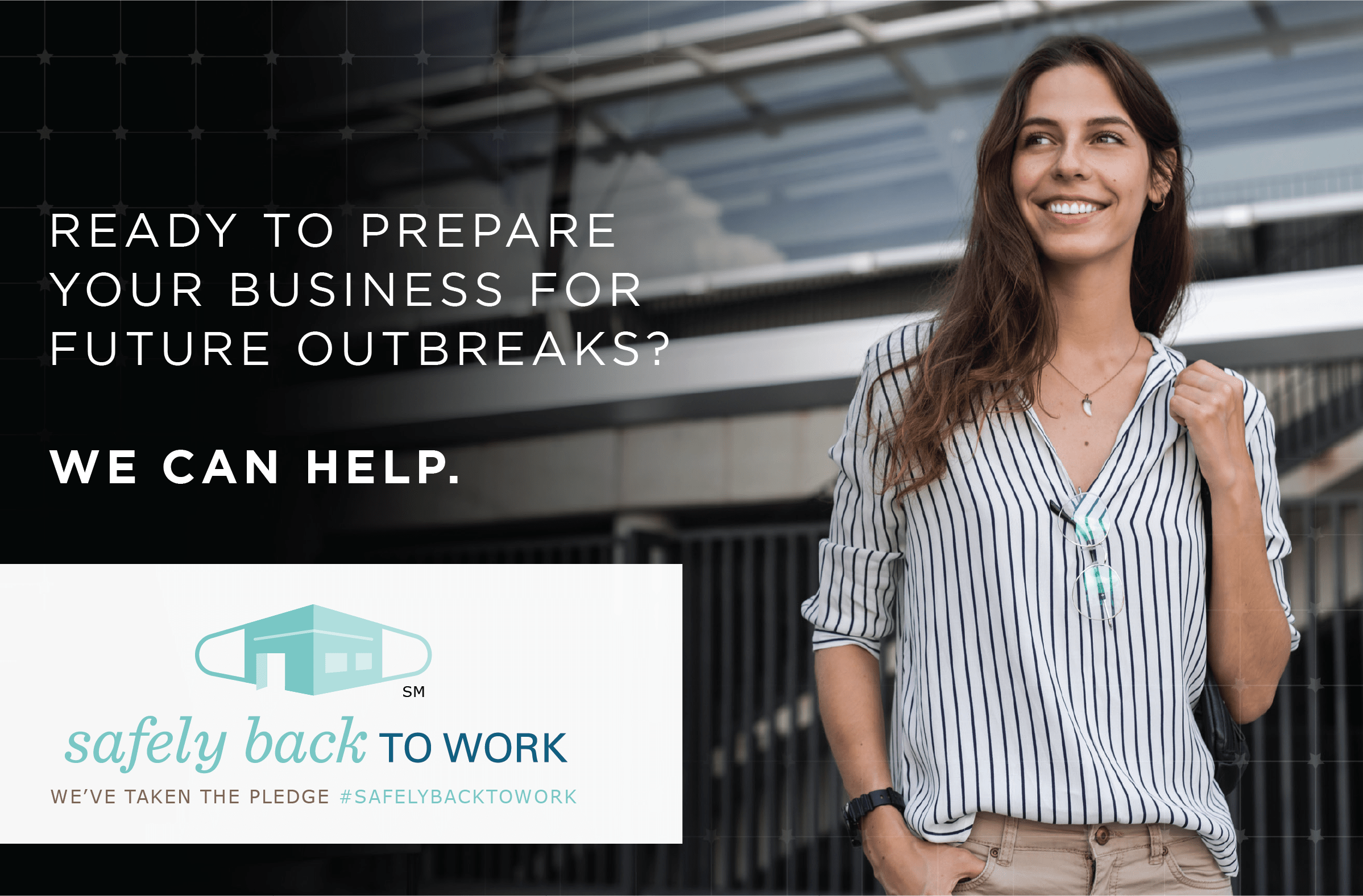 Our partnership provided our client with the flexible staffing solution they needed to meet demanding headcount goals, keep associates safe and engaged, and keep their employee issues managed. Most importantly, their internal teams gained back the bandwidth to effectively respond to the growing customer demand in an unstable marketplace.
WHETHER YOU NEED HELP ASSESSING YOUR BUSINESS
OR REQUIRE FULL STAFFING SUPPORT, WE'RE HERE TO SUPPORT.
Learn more about our Workplace Readiness Solutions:
integritystaffing.com/workplacereadiness
LET'S TALK.
Let's collaborate and build a plan to keep your business — and those living and working in your communities — thriving.
1-833-446-1300 | sales@integritystaffing.com
integritystaffing.com
Your workforce, simplified.
Need help finding the best talent for your roles? Let's work together.