Integrity Staffing Chief Financial Officer & President of Retail Operations Jaime Donnelly Named One of the 100 Most Influential Staffing Industry Leaders by Staffing Industry Analysts (SIA)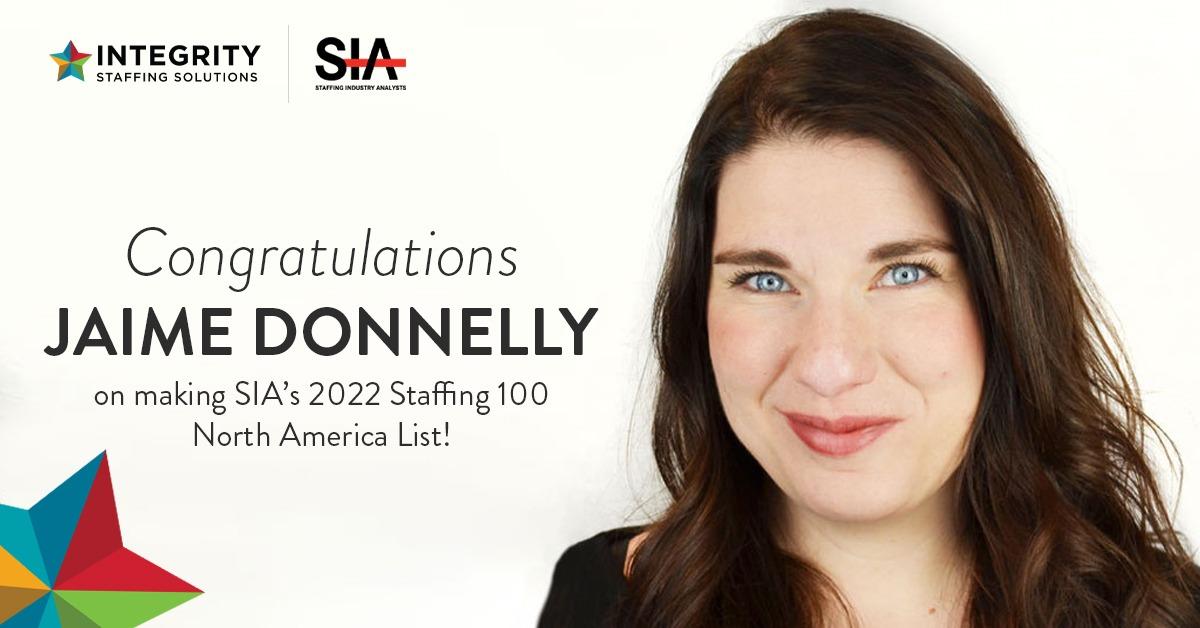 NEWARK, DE – February 16, 2022 – Staffing Industry Analysts (SIA), the global advisor on staffing and workforce solutions, has unveiled its 11th annual list of North American staffing leaders, celebrating those individuals whose passion and contributions have made a positive impact on the lives and livelihoods of workers and job seekers across the economy. The 2022 Staffing 100 list, comprised of 100 notable influencers includes Jaime Donnelley, Integrity Staffing Solutions CFO and President of Retail Operations.
An acknowledgment of bold leadership, this year's Staffing 100 list recognizes a group of professionals who navigated the uncertainties of 2021 and are charting a course into the future of workforce solutions. The CEOs, entrepreneurs, technologists, operational experts, workforce specialists, innovators and more who comprise the list are taking strong action to ensure success for their companies and the industry through their business practices, processes, philosophies and people-first mindsets.
"The world of work has undergone a dramatic shift and the task of keeping the workforce motivated and productive has rested with many of the enterprising leaders on the Staffing 100 list," said Subadhra Sriram, Editor & Publisher, Media Products, SIA. "Working relentlessly to move their companies and the workforce solutions ecosystem forward, these intrepid professionals have done what it takes to ensure the workforce solutions ecosystem continues to thrive."
SIA's 2022 Staffing 100 list was published in the January/February 2022 issue of Staffing Industry Review Magazine. Donnelly's Staffing 100 profile page can be viewed here.
As an industry leader specializing in in high volume, clerical, and light industrial, and recruitment process outsourcing staffing solutions, Integrity Staffing takes pride in creating innovative employment solutions for both its clients and associates.
About Integrity Staffing Solutions
Since its launch in 1997, Integrity Staffing Solutions has been committed to generating opportunities for its associates to exceed their own expectations by supplying the skills that advance future fulfillment. The company specializes in temporary and direct-hire employment and customized staffing models that facilitate the growth of careers, communities, and companies. Integrity Staffing is the proud recipient of the prestigious Best of Staffing Diamond Award for providing outstanding customer service levels for five consecutive years. Less than 2% of all staffing companies in North America earn ClearlyRated's Best of Staffing® title, which is based on customer ratings of 9 or 10 for exceptional service. In addition, Integrity Staffing was also recently named to Forbes' list of Best Temporary Staffing Firms in the U.S. A true engine of opportunity, Integrity is based on the philosophy that its clients succeed only when its associates do. For additional information about Integrity Staffing, please visit: IntegrityStaffing.com or follow us on LinkedIn.
Media Contact:
Jonathan Barnes
Integrity Staffing Solutions